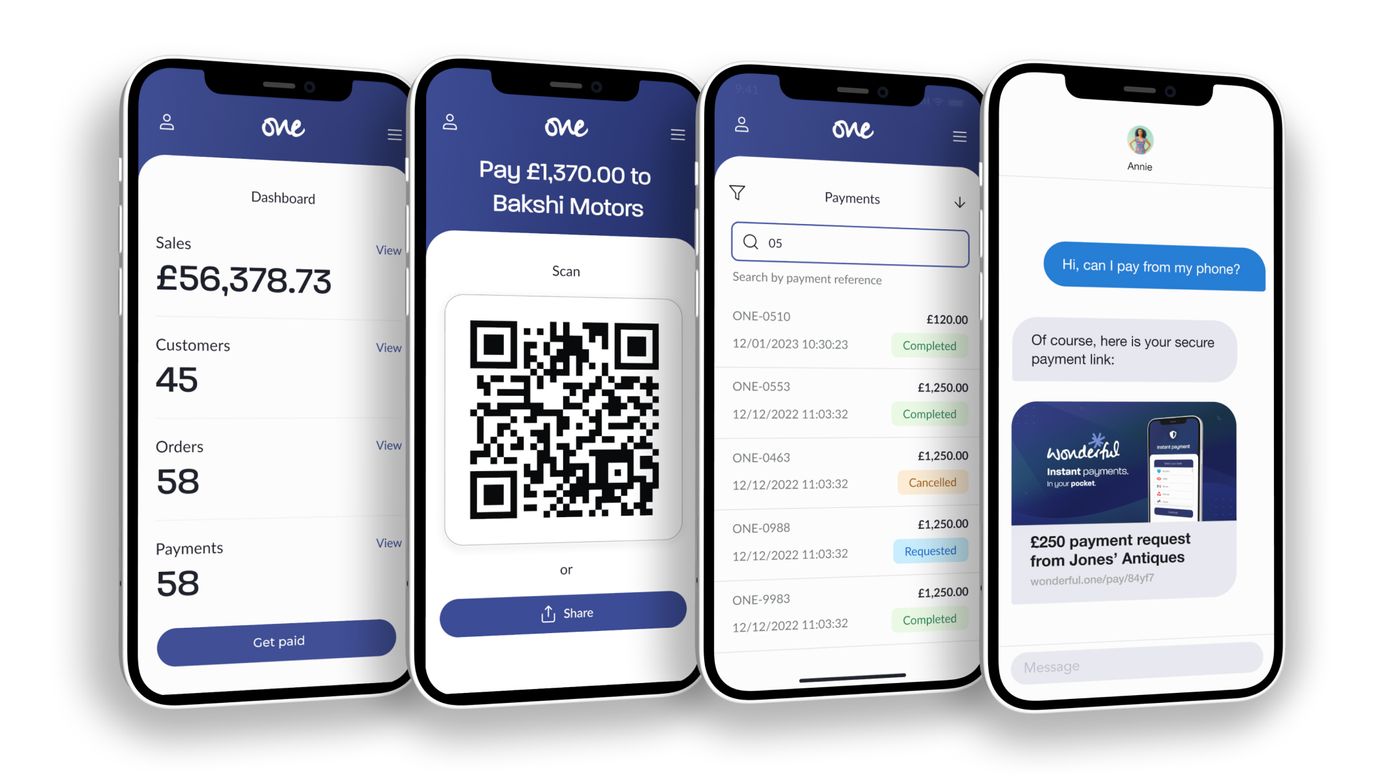 Not just for charities - Wonderful is revolutionising business payments
Find out how the benefits of Open Banking are a boon for businesses.
At the Wonderful Organisation, we've been making waves and saving bundles for charities for the best part of a decade. And since introducing Open Banking payments, the ceiling on our fee-free fundraising platform's popularity has been removed, opening the door for hundreds more charities and thousands upon thousands of life-changing donations.
In fact, our Open Banking payments system has proven so successful that we decided to expand it, offering the same smooth, secure process and mammoth savings to commercial businesses.

And now our free and intuitive One app grants businesses up to 1,000 transactions every month for just £9.99 – and a free trial so you can try before you buy.
Curious about why Open Banking has worked so well – and how it could benefit your business, or companies your charity works with? Read on as we unveil Wonderful's newly released payments app and some of its biggest benefits.

And if you're a charity with links to for-profit organisations – like sponsors, contributors to the work you do, suppliers, or anything else – make sure you point them to Wonderful. That way, they'll be helping not just your charity, but thousands of others to continue taking fee-free donations through the Wonderful Organisation. And every time a customer checks out, they'll know that their money is contributing to these vital causes, and that the companies they buy from share their charitable values.


Built by visionaries

The Wonderful Organisation was born from a belief – and a determination – that there is a different way to do things. That the well-worn path isn't necessarily the right one. At Wonderful, if it ain't broke don't fix it isn't quite good enough, particularly when the current system is broken. Or at least not quite fit for purpose.

So back in 2016, we bet on an outlandish vision: that a fee-free fundraising platform could exist. Plenty of people in the third sector thought we were dreamers, that such a utopia was impossible. After all, fundraising platforms have running costs. Wouldn't some sort of fee or deduction be necessary to cover them?

We shirked existing models – including the voluntary 'tip jars' often waved at donors during the donation process – and realised our 'utopia' with a corporate sponsorship model.

Of course, as charities who've been with us since then know, our platform became so successful that it outstripped even the incredibly generous sponsorship we were receiving, and we had to pause operations.


The lightning bolt
That's when we let ourselves dream once more, inspired by an emerging payments technology: Open Banking.

What was so exciting about Open Banking? Well, it seemed tailor-made to address our issue. Its direct account-to-account payments remove card processing and all its associated fees – the very fees that had previously capped the number of donations we could process.

We got to work implementing Open Banking, and we now exclusively process donations this way.


Expanding our offering
Inundated with glowing feedback from donors and charities, we realised there were far-reaching benefits.

After all, a lot of what people loved about our Open Banking donations translated far beyond the realms of charitable giving. Things like:

How easy it is to donate
The sense of security and confidence in using their own bank to approve transactions
How quickly (read: instantly) funds reach charities' bank accounts

These all seem like they'd be great for businesses taking commercial payments too, don't they?

So we created a separate payments service catering to profit-making organisations – from retailers with thousands of shops, to online merchants, to private tutors. In short, anyone who's earning money.

And now Wonderful is an FCA-authorised Open Banking payments provider, processing super secure transactions at a fraction of the cost for any and all future-minded businesses.

Why everybody loves Open Banking
You might be wondering why our users have been so blown away by this new way to pay. How exactly does an Open Banking payment work?

It's incredibly simple.

The customer (or donor) scans a QR code or clicks a link, and they're directed to their banking app/website where they find a pre-filled payment. The amount and recipient (i.e. the charity's or business's bank account) are already filled in, so all they need to do is approve the transaction. This authorisation typically takes a matter of seconds, using the customer's face or fingerprint ID.

To see it in action – and see just how much quicker it is than an online card payment –  watch our timed comparison video...

Once the payment has been approved, the customer's bank sends the money directly to the business's bank account. There are no cards, meaning no card processing fees for the merchant, and no need for the customer to enter long card numbers, CVVs or billing addresses.

Plus, because no sensitive financial data is shared by the customer, it's much safer for everybody involved.

If you want a more in-depth look at some of the benefits of Open Banking payments versus traditional methods – particularly at the Point of Sale – have a look at this series of articles. It covers:
And, of course, your business gets the huge ESG kudos of aligning with our charity-first fundraising platform when you choose Wonderful!

Or, if you want it in a nutshell, our founder met a VC's ten-word pitch challenge with two words to spare. What are the benefits of Wonderful Payments for businesses?: "Slash fees, remove friction, improve security, be wonderful."



Get started
Instant payments in your pocket
With our payments service running successfully, we got down to work once again to create a really slick, quick and straightforward app that lets retailers process transactions – both in person and remotely –  whilst slashing transaction fees.

Within the One app, you can:
Take direct payments for products and services
Bill hours
View a dashboard with order, payment and customer history
Generate QR codes for face-to-face transactions
Create secure payment links for other channels like SMS, email and WhatsApp

One brings instant settlement, increased security, and minimised data entry to the payment experience. Plus, our all-you-can-eat subscription model means you don't have to pay percentage-based transaction fees. And that means big savings.
Instant payments on your e-commerce site
For businesses running online shopping sites and other e-commerce stores on platforms like WooCommerce, Wonderful can quickly and easily be added as a payment method on your checkout page, without you having to write a line of code!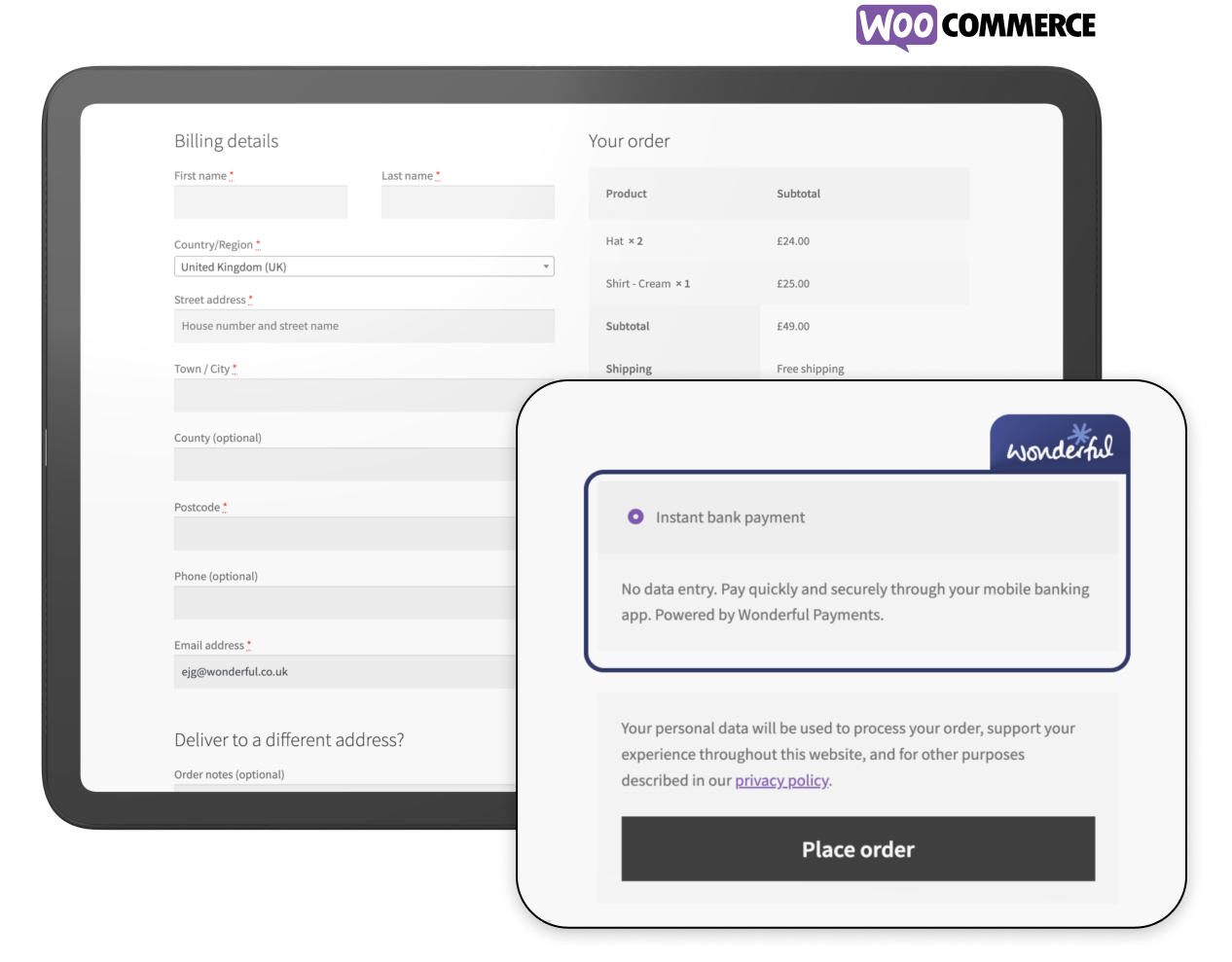 Wonderful's WooCommerce plugin is a fantastic way to introduce Open Banking payments to customers. The integration can sit neatly alongside any existing payment methods, or replace them entirely, depending on how much you're keen to save on fees!
All you need to do is register your business with Wonderful to obtain your merchant token, and then install the Wondeful Payments for WooCommerce plugin on your WordPress site.
Get started now with Wonderful's WooCommerce plugin
Try before you buy
If seeing all of these benefits on paper isn't enough to win you over, try it yourself!

Wonderful's commercial subscription plans offer a totally free trial, with no strings attached. So you can road-test account-to-account Open Banking payments, and watch your customers and staff fall in love with the process before you commit.

To find out more about Wonderful, click over to the website and check out the blog for the latest news and advice on all things Open Banking payments.  


---