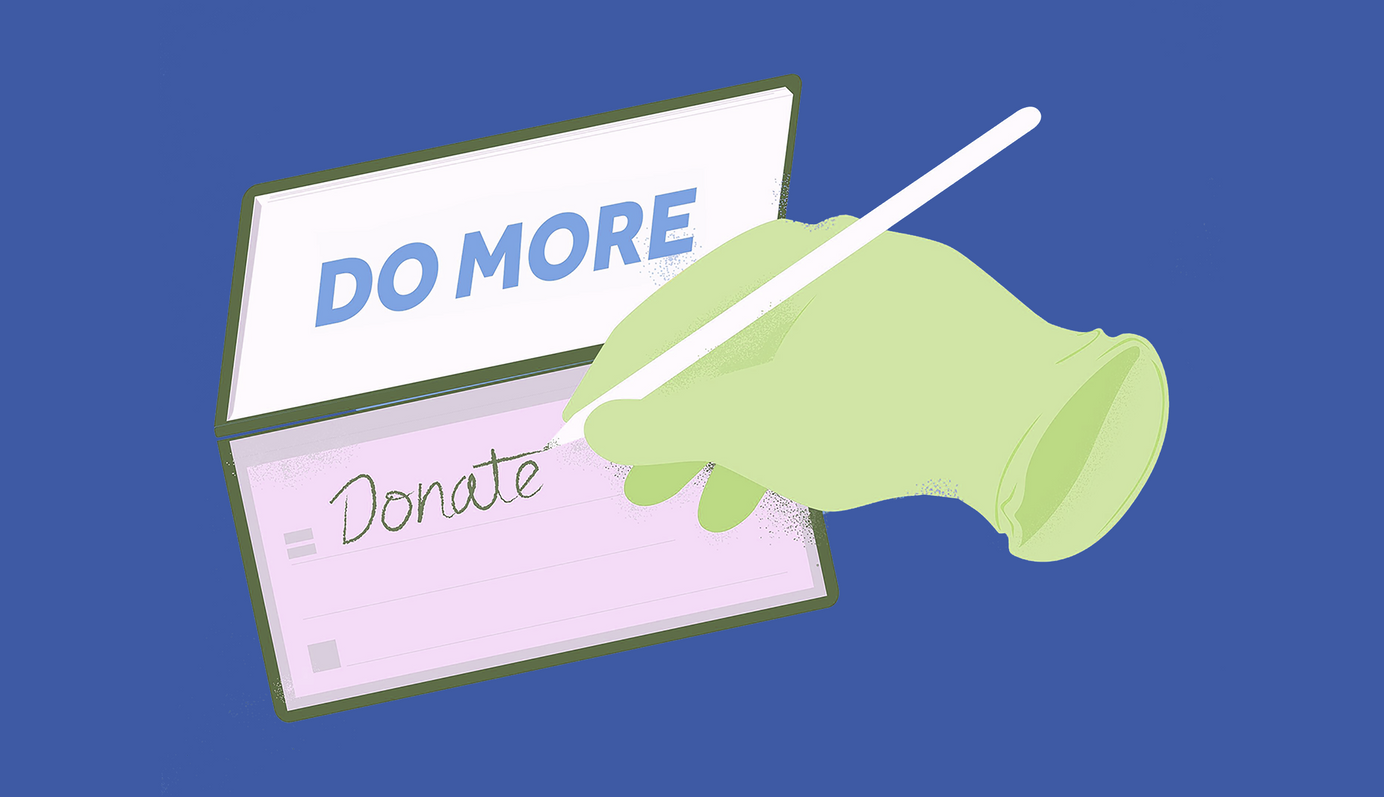 Socially-distanced fundraising: doing good in the COVID-19 age
After twelve months in lockdown, hand-washing and face-covering are becoming habits. But questions remain about fundraising. Can we do good from a distance?
There's no doubt that the so-called 'new normal' is very different from life before 2020. Thankfully, it seems that we're moving towards a brighter, freer and safer future: the government has announced a roadmap for gradually lifting restrictions. But many restrictions will remain in place, likely for much of 2021. That doesn't mean we have to curb our fundraising efforts, though.
The importance of maintaining fundraising efforts through lockdowns
Most of us probably feel that one silver lining of the coronavirus pandemic is that it's made most people much more conscientious. Through 2020, there was a surge in fundraising, particularly for the NHS. Heroic efforts like those of Captain Tom Moore swept the headlines and appeals like Clap for Carers caught all our attention. Of course, it goes without saying that helping to fund the NHS throughout the pandemic is absolutely vital.
We also heard of the secondary effects of lockdowns on vulnerable groups like survivors of domestic abuse and people struggling with addictions.
And not only have we been hearing about causes that need extra support, we also seem collectively to care more. Faced with so much strife, many of us have come to reevaluate our priorities, and give thanks for what we do have.
But despite this shift in attitude, many charities have been adversely - and even irreparably - hit by the pandemic.
Clearly, ensuring charities get our continued support is really important. It would be tragic to lose as many as one in ten charities, and all of the incredible work they do.
What are the obstacles to fundraising during COVID-19?
Unfortunately, though, there are definitely reasons why lockdowns would negatively impact charities and their fundraisers' efforts. Despite forward-movement and optimism in terms of restrictions, there remain a lot of uncertainty and unfilled gaps in the fundraising landscape. So what are some of the problems that the pandemic poses for people hoping to do good?
Large gatherings remain unsafe
While meeting up with a friend outdoors might be on the horizon, there are definitely activities that seem a long way off. Many of these were the bread-and-butter of charitable fundraising: coffee mornings and large-scale races, open-mic comedy nights and evening galas. Can we continue mass fundraising through COVID-19?
Out of sight, out of mind
While a global pandemic is not easily forgotten, many other causes do slip out of the public consciousness. When we're not encountering fundraisers on the street, collection tins at checkouts or invitations to charity events, we might not think to donate quite so often. Many charities depend on collecting spare change and holding community events. As a result, lockdown has cost them dearly.
Lockdowns have accelerated the fall of cash
Cash has been falling out of favour for years. The convenience and widespread availability of card payments is generally preferred. But the pandemic meant cash dropped even more dramatically in 2020: cash machine withdrawals fell by over a third last year, compared to the 10% year-on-year drop over previous years.
That means people no longer have a loose note or some spare coins to hand over should somebody ask for a donation. Plus, concerns about spreading coronavirus by touching contaminated money, as well as guidance recommending a distance of 2m, mean that handing over cash is less likely than ever.
What are the best ways to keep fundraising through the COVID-19 pandemic?
Of course, all hope is not lost! Necessity is, after all, the mother of invention. Where there's a will there's a way, and our will to do good seems stronger than ever. There are definitely lots of options to keep raising money for causes we care about.
Choose the right fundraising platform
With the decline of cash and hugely reduced social contact, money-collection has pretty much moved entirely online. Again, this isn't exactly new. Lots of us have campaigned or donated through online giving platforms for years.
But there are so many available these days that choosing the right one can seem daunting, or even exhausting. Of course, there are really useful round-ups and comparisons to help you pick.
For most fundraisers, there will likely be two top priorities:
How much of the money raised does the charity receive?
How easy is it for people to donate to the campaign?
Let's tackle the first question
In an ideal world, obviously your chosen charity would receive 100% of donations. But many fundraisers are surprised to learn that deductions are being made from every single transaction to cover payment processing fees, and sometimes also to go to the platform itself. After all, some fundraising platforms are for-profit companies, so creating profit is built into the business model. Others just need to cover their running costs. You might also notice that some ask for contributions to the platform itself, which some of your supporters might find off-putting or confusing.
We've got good new, though. We're already living in that ideal world where charities get every donation in full. The Wonderful Organisation takes nothing from any donation, and its generous corporate sponsors cover all of the transaction fees. In its previous iteration, this created something of a success paradox, an Achilles heel whereby at some point so much money would be raised that the payment processing costs would be too high for sponsors to cover.
But since our relaunch - our transformation into Wonderful 2.0, if you will - we've tackled this success paradox. Rather than using card payments for donations, we now use Open Banking. It's much cheaper (with savings of 90% on average!), which means we can support many more fundraisers and many more charities without corporate sponsors being overwhelmed.
With so many charities struggling during the pandemic, it's more important than ever to ensure they get every penny they can. This consideration really should be a top priority for all fundraisers. You're working to support your charity, not the platform!
What about ease of donations?
You might be wondering whether a new technology like Open Banking comes at the cost of ease. But in fact, it makes donations much quicker and more convenient for your supporters. Here's how it works.
Your donor visits your donation page, fills in the amount they wish to give, and applies Gift Aid if they're eligible.
When they press confirm, they'll select their bank app and be redirected straight there - if they're on a mobile. If they're using their computer, they'll get an email with a verification link. If the link is opened on their mobile, then they'll be redirected to the bank app. If they open the link on their computer, they'll be taken to their online banking account in their browser.
Once they reach their online banking in whatever form, the payment will be ready and awaiting approval. The amount and the recipient bank account will already be filled in.
They just need to confirm the payment with whichever verification their bank uses (like Face ID, fingerprint, 2FA) and the donation goes straight to the charity.
Essentially, Open Banking initiates bank-to-bank transfers, passing the donation straight from your donor's account to the charity's. That saves supporters from having to enter long card numbers and billing addresses. They also won't need to enter the charity's bank account details or manually re-enter the amount. It's really quick, really easy and really safe. Definitely no excuses for any family or friends not to donate - multiple times!
And this is particularly useful in the era of COVID-19. You won't need to knock on your neighbour's door asking for a tenner or risk sending cash in the post. Plus, with phishing scams capitalising on people's charitable nature, lots of donors will feel more comfortable not having to enter any financial information or card numbers when supporting your cause.
Is the platform charging the charity?
A third question fundraisers should ask themselves - especially when so many charities are struggling - is:
3. Does the charity have to pay to be on the platform?
Many of us don't really think about this. But plenty of platforms charge charities subscription fees. By choosing an alternative, like the Wonderful Organisation which is totally free for charities to use, you'll make charities see they don't need to be on those costly platforms. That will save them money which can be put to far better use.
Social distancing doesn't have to kill team spirit in fundraising
One thing many fundraisers are missing is the energy and motivation that come from a collective goal. We can't run in organised races together or relay at the pool. We can't get together for a messy bake-a-thon and sell our yummy treats on-campus. But that doesn't mean that teamwork is totally lost in fundraising.
Lots of charities have responded proactively and innovatively to the limitations brought by COVID-19. They've planned fun, virtual events for supporters to participate in up and down the country. Think of things like:
These are all things that you can join in on from a safe distance.
Plus, provided you choose a platform which registers official events, you'll still be part of an active community of like-minded fundraisers.
Group fundraising doesn't need to be organised by a charity, though. Your group of friends can set a shared goal (like cycling for a total of 200 hours in 2 weeks), and work towards it together. And with a platform like the Wonderful Organisation, you can see your cumulative total rise with every donation, and support each other along the way.
Or maybe you're taking part in a larger, organised event like the many virtual races happening this year. It's not necessarily tied to a charity, but you'd still like to fundraise for one. You can still share a community spirit with other fellow fundraisers running the race by linking your fundraising page to the official event's page. You'll be able to see what charities they choose, support their causes and cheer each other on from a distance.
Come up with your own virtual fundraising ideas!
Not having our usual roster of events to fall back on can be challenging, and even disappointing. But we should try to see it as an opportunity! It's a chance to get creative and think about fundraising ideas that really reflect our personalities and our strengths.
There are so many different activities that your loved ones - and even perfect strangers - will sponsor you for. From gaming marathons to crafting, hairstyling to storytelling, there'll be plenty you can do from the safety of your home. Think about what you genuinely enjoy, and how you can take it further. People are always keen to support a good cause, so don't be shy.
If you're struggling to come up with fundraising activities during COVID-19, you'll find plenty of inspiration online. Charities like Mind have offered great ideas, and you can always have a look at what other people are up to by browsing fundraising platforms.
The main thing is to not give up! So many charities need our support now more than ever. And keeping a sense of purpose and team spirit is a great way to pep up your lockdown days. So pick a cause you care about or a challenge that excites you and create your very own fundraising page today. Do good, and be wonderful.
---