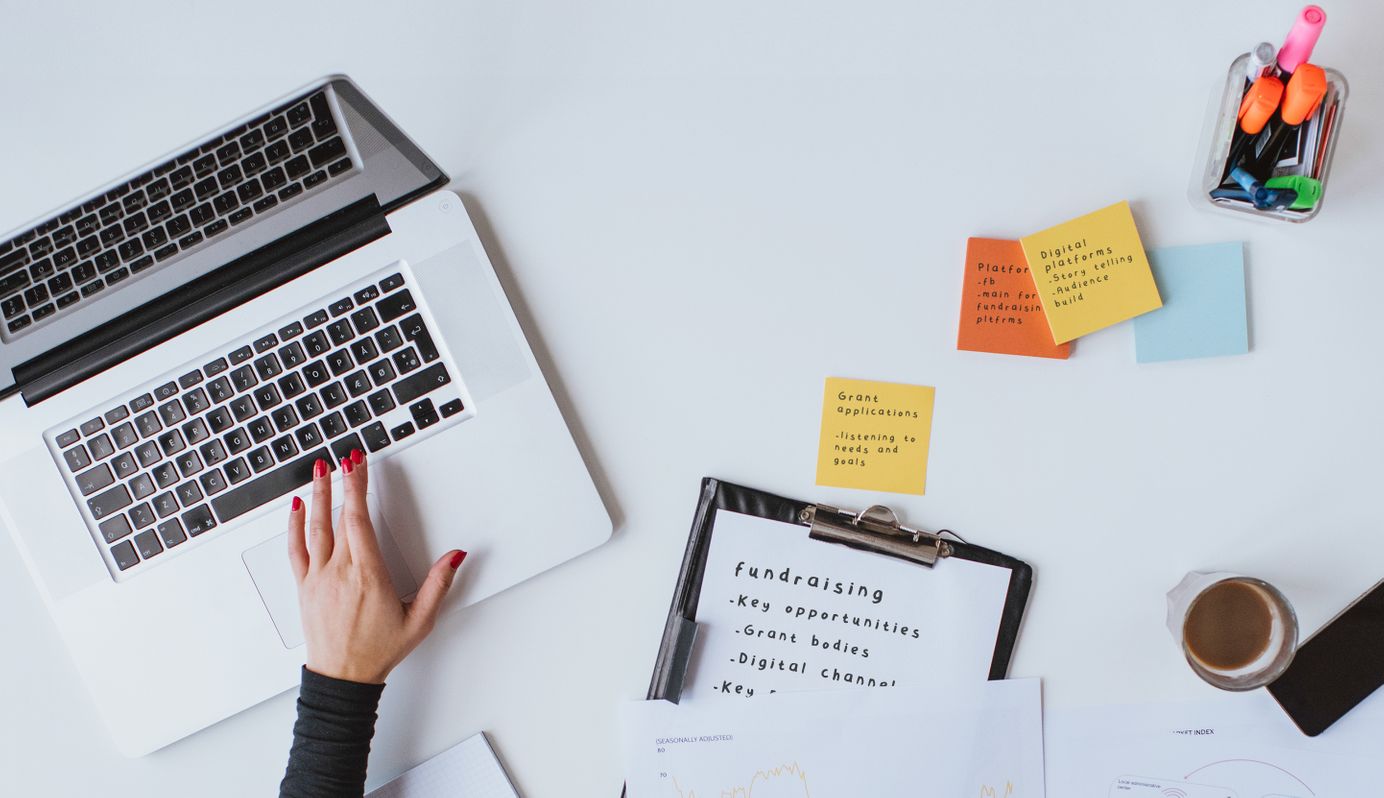 Online fundraising courses for UK charities and non-profits
The Coronavirus pandemic is changing not only how we fundraise, but how we learn to do it.
Fundraisers looking to broaden their knowledge and skills have access to a variety of online courses and training programs.
We've compiled lots of options below to help you find the best teaching programs for you and your charity's needs.
Best on a budget
Fundraising Everywhere
This platform offers a wide range of virtual conferences and webinars specifically dedicated to charity fundraisers. With a supportive community of mentors and industry experts, you get exposure to a huge range of discrete and specific conferences and sessions on today's fundraising landscape.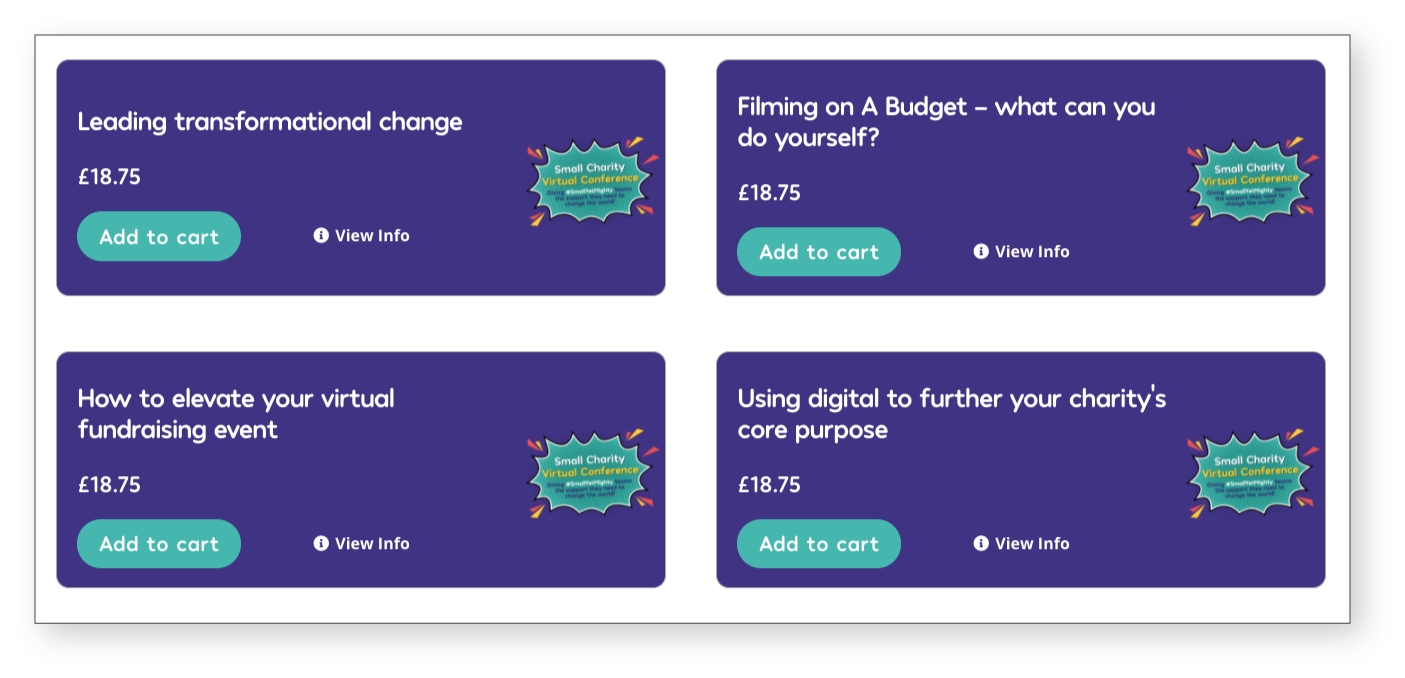 You can pay a one-off fee for specific webinars or join as a member to get full access from £300 / yr. A great option for charities looking to get exposure to expert insight and build connections at a reasonable cost.
Foundation for Social Improvement (FSI)
This is an extremely cost effective training option for organisations wishing to conserve funds. Courses include workshop-style training days with other charity professionals and online courses and webinars (currently training is held exclusively online).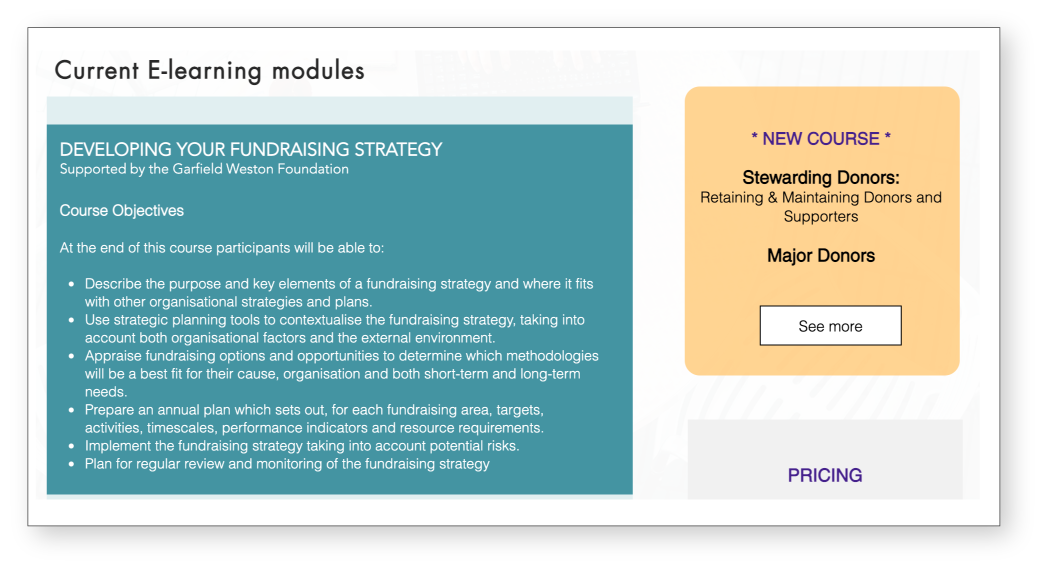 FSI heavily subsidises course fees and members can access full-day courses for just £20. You can also try out one of the shorter webinars for £5 to see if you think you'll gain value from additional learning.
The University of Kent's 'Guide to Fundraising for Non-Fundraisers' via Future Learn
The University of Kent has its own Centre for Philanthropy and teaches a Masters degree in Philanthropic Studies, but also offers a Guide to Fundraising via the online course provider, Future Learn. The course can be access for free, and is designed over 3 weeks with 4 hours of learning / week.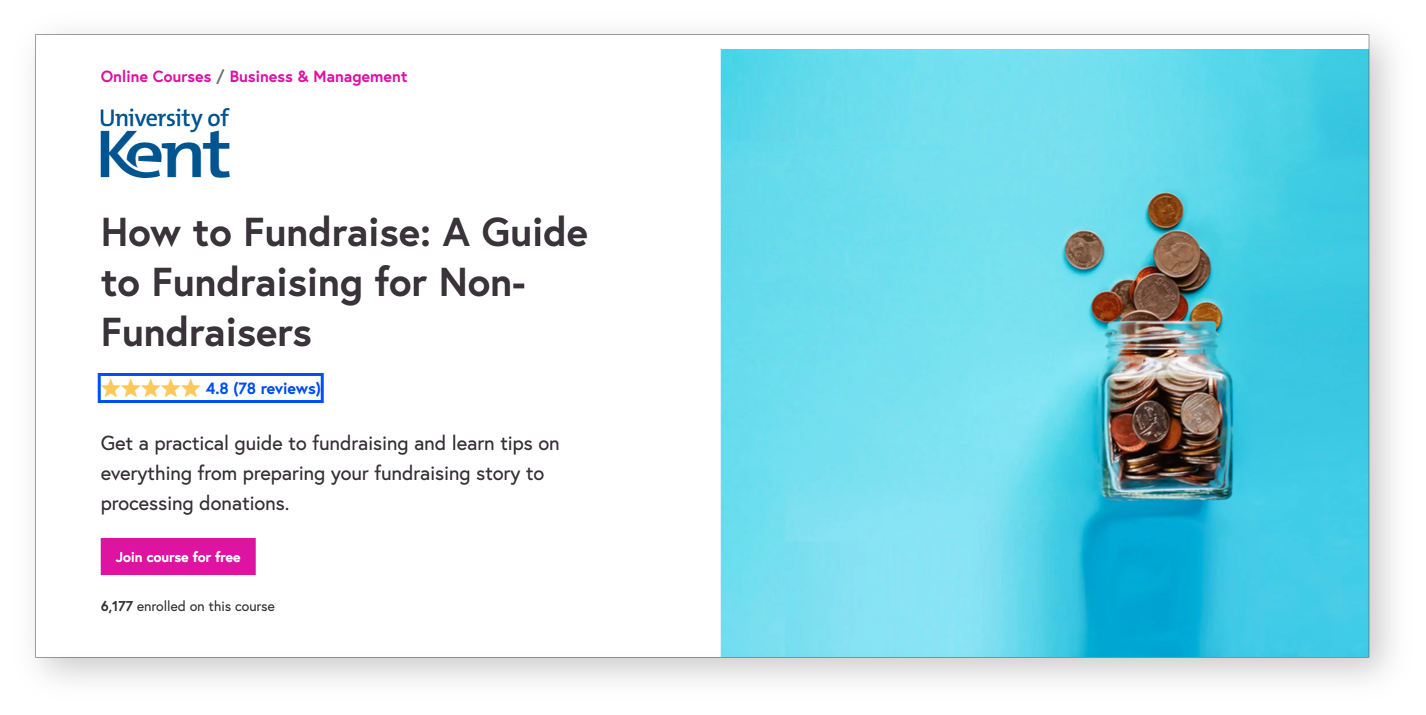 In their own words '...you'll get practical advice on how to fundraise whether you work for a non-profit or charity, or you volunteer in a community organisation.
Using evidence-based fundraising research, you'll learn who gives, how they do it, and why they do so.
Accumen's Nonprofit Fundraising Essentials
Whilst not a UK provider, Acumen offers a high quality and free 6-week online course called NonProfit Fundraising Essentials.

It covers a broad range of topics including approaching funders, strategy, budgeting, building communities and story telling to maximise fundraising success.
Charity Digital: free skills and training resources
The popular third sector publication, Charity Digital, has a dedicated page for fundraising training and skills, including webinars and other content about fundraising strategy. If you're looking to develop knowledge and skills without any expense it can offer some great insights.
Best for breadth and quality of teaching
The Chartered Institute of Fundraising
You can't talk about fundraising training and career development without mentioning the Chartered Institute of Fundraising. As the professional membership body for fundraising in the UK, it provides training and courses (currently online only) covering everything from an 'Introduction to Fundraising', to 'Events Fundraising: Strategy and Planning''.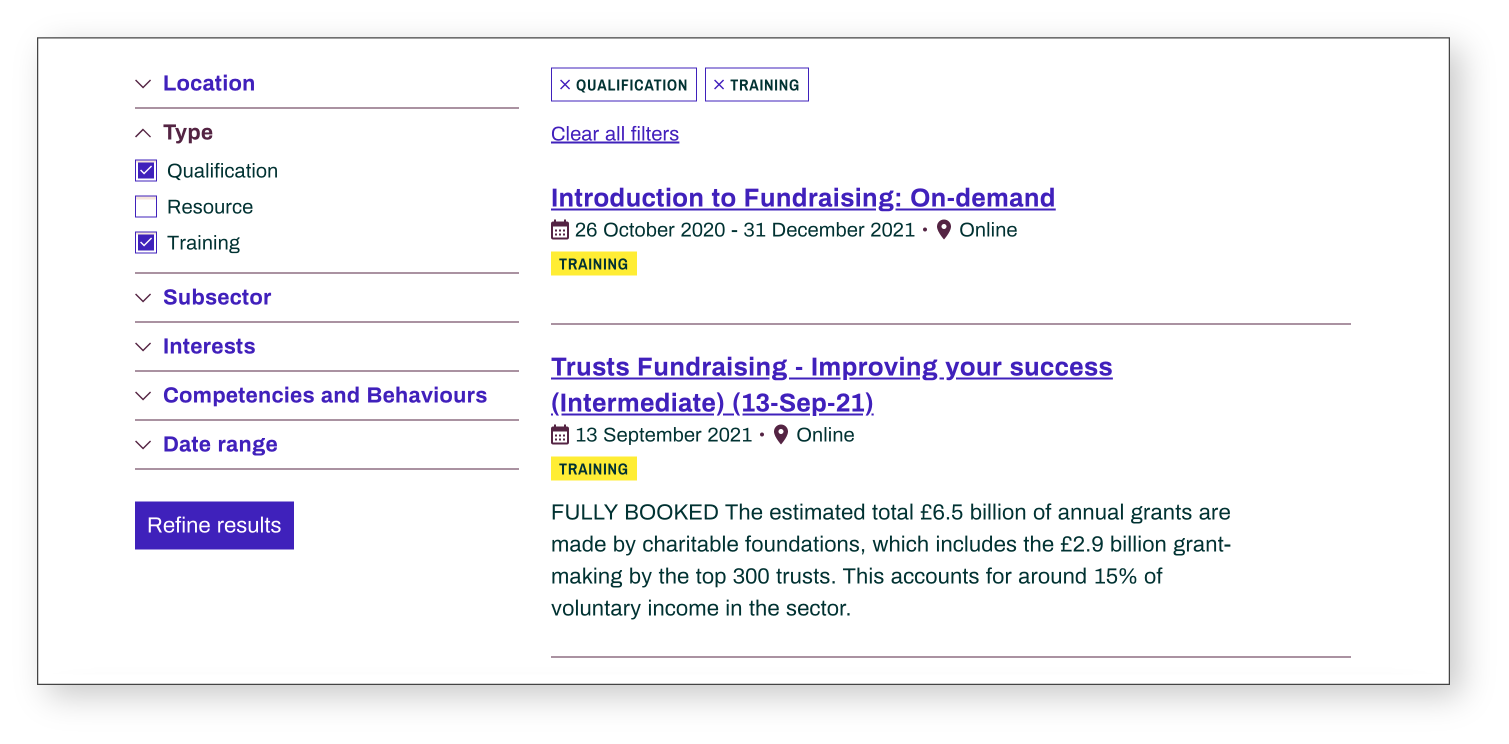 There are short one-day style courses as well as extensive training and qualifications such as Certificates and Diplomas in Fundraising. Pricing varies between courses and how extensive they are. Their 9-month 'Diploma in Fundraising' can be accessed from £2,442. Discounted rates and offers are available for some organisations.
Tip: When searching for courses, use the 'Qualification' and 'Training' filters on the left to find courses.
The Directory of Social Change (DSC)
DSC gives charities the tools they need to to have positive impact. As well as providing an extensive range of books, they offer training both face-to-face and online including specific courses on fundraising.  Relevant publications such as the 'The Digital Fundraising Book' are sometimes provided as part of courses.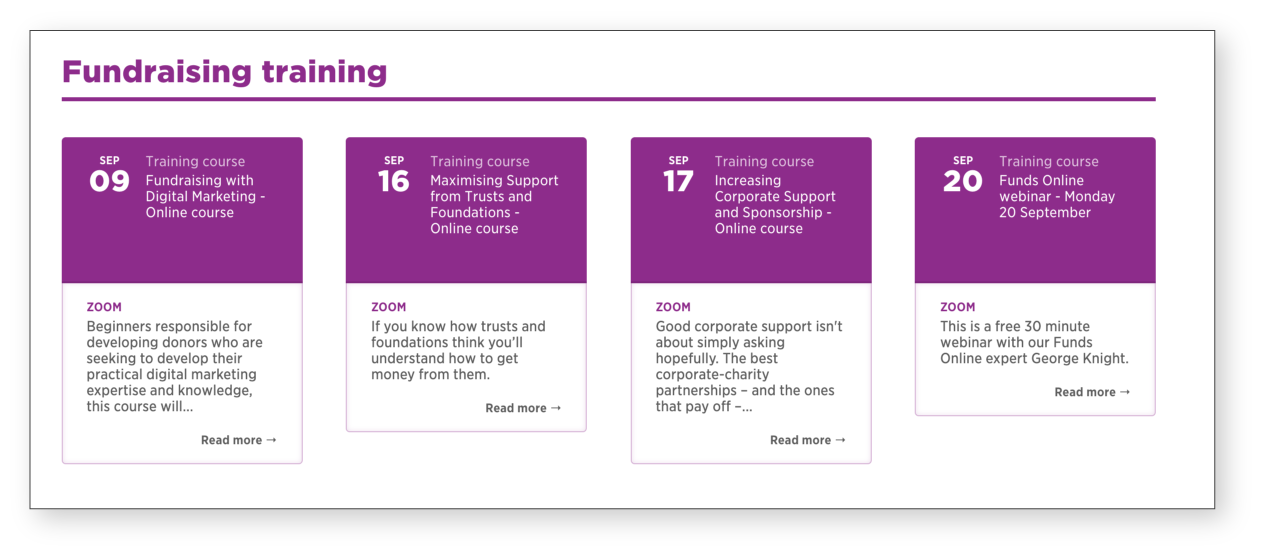 Like many other providers, DSC is currently offering its courses exclusively online.
As its names suggests, DSC also offers directories of funding sources and their Funding Online portal connects organisations to funders offering cash and in-kind funding.
Academic courses
Online BA(hons) degree in Charity Development from The University of Chichester
This undergraduate degree is taught over 3 years on campus, online or both. Like almost all degrees, there are a range of optional modules allowing you to focus on specific areas of charity development including social media, event fundraising, grant / major donor funding, and more.
Previous graduates have commented on the employability they believe the course has given them when applying for fundraising jobs.
Online Masters degree in Philanthropic studies from The University of Kent
You'll need to have a degree in social sciences or similar to be considered for this part-time, 2-year masters, but if that includes you and you're looking for an academic focus or looking to boost your CV and employability this could be a great option.
This course draws significantly on expertise from the University and beyond, including teaching contributions from leading philanthropy experts, advisers, consultants, grant-makers, fundraisers and strategic philanthropists.
Other academic options
Whilst not online-taught, there are other university courses available if you're looking for face-to-face education, such as the Masters in Charity Management from St Mary's University, Twickenham.
For voluntary organisations
NCVO
The National Council for Voluntary Organisations champions and supports the voluntary sector in the UK, providing practical resources and webinar style online training, whether you're a member or not (although courses are cheaper if you are).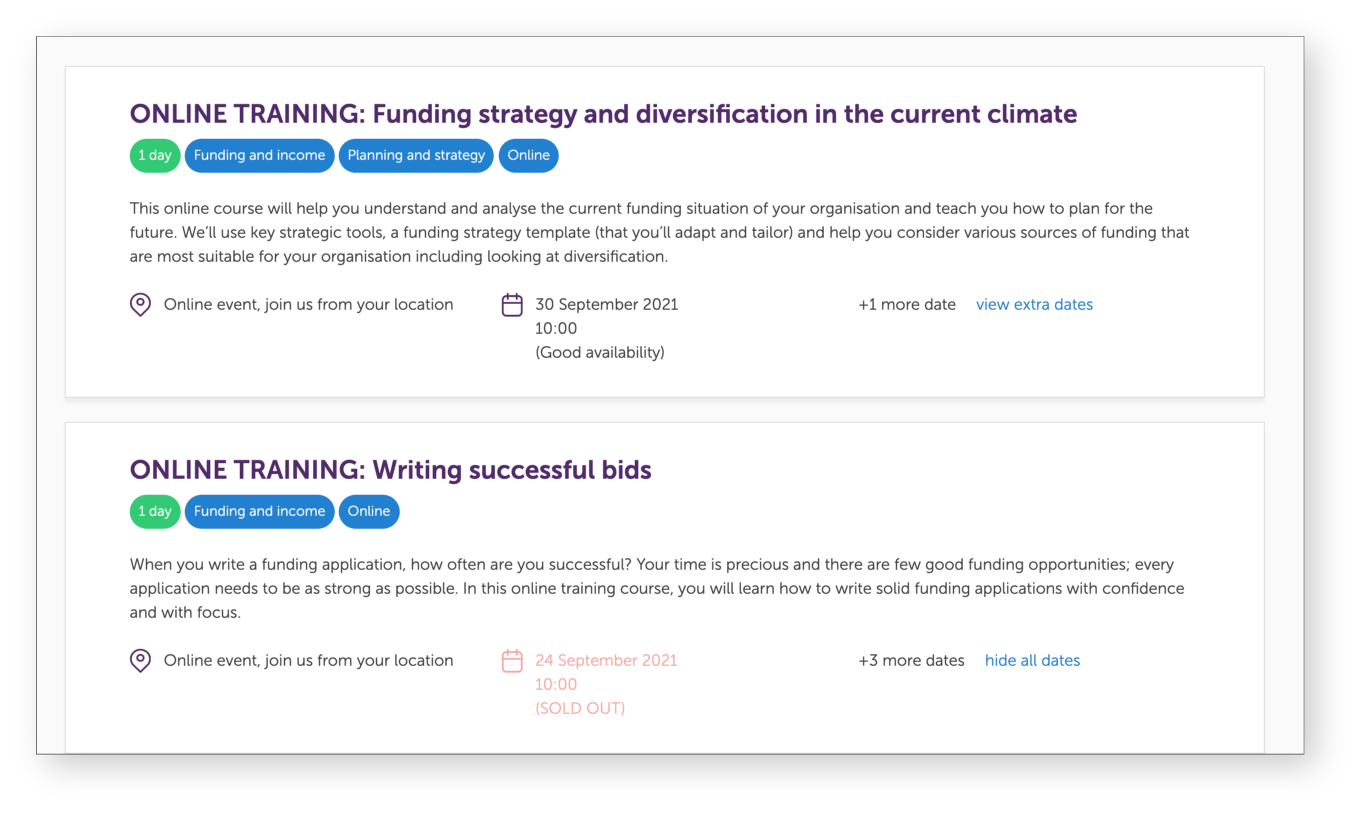 Face-to-face training isn't currently on offer. Most webinars are short, one-day affairs such as the 'Fundraising strategy and diversification in the current climate' course.
Best for grant seeking
Fundraising Training Ltd.
Specialists in the field of grantseeking (securing funds from foundations, governments, companies and wealthy individuals) Fundraising Training Ltd teaches best practice in the UK's complex funding market.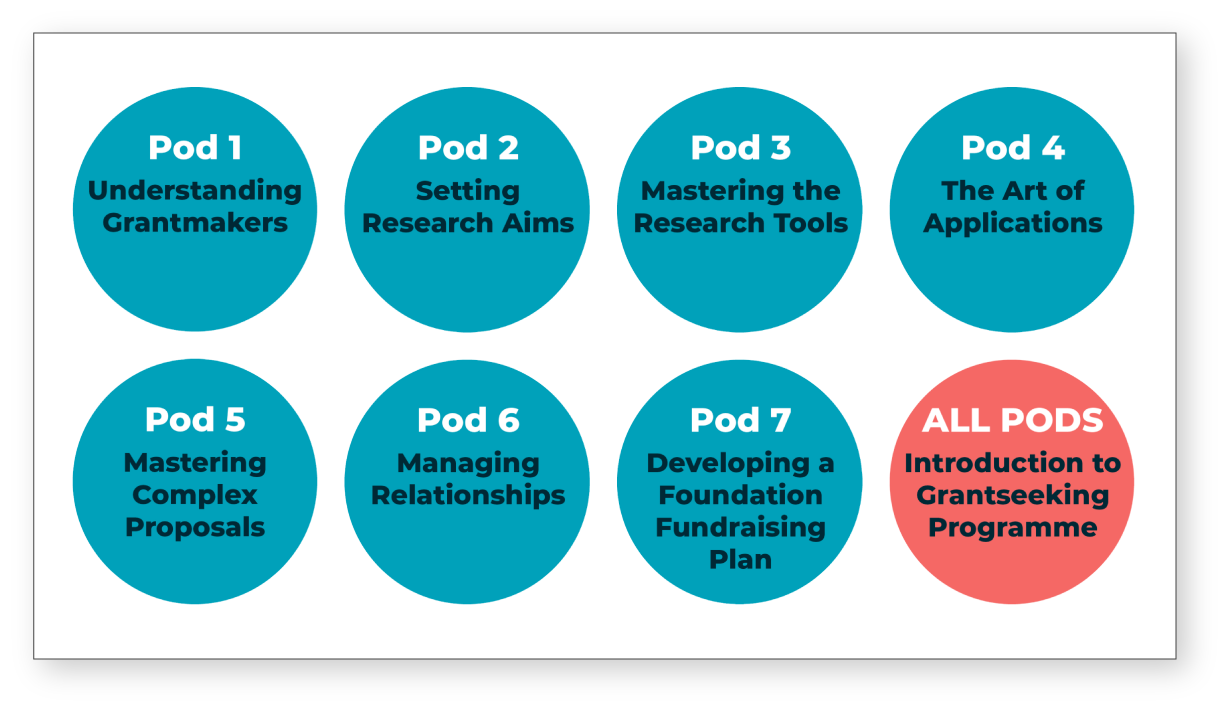 They offer two flagship programs: The Introduction to Grantseeking and The Skilled Grantseeker Program. Full programs costing £379 and £895, respectively. Individual modules can be purchased for specific needs.
In the arts?
Arts Fundraising and Philanthropy courses
Arts fundraising and philanthropy offer dedicated fundraising courses. These are paid courses on a range of subjects. In their words: 'As we recover from a time of emergency for the arts, where more applications are being written and read than ever before, there has never been a more important time to learn how to communicate your story to funders and stand out from the crowd.'
Future Learn course: Effective Fundraising and Leadership in Arts and Culture (University of Leeds)
This 2-week, 4-hour / week course specifically for raising funds for arts and culture projects is another free option hosted by Future Learn. You'll be taught by senior lectures and professors from Leeds Uni and other experts on key fundraising models, challenges and opportunities in arts and culture fundraising.
---
Fundraising platforms
We hope you've found the resources above helpful in your search for online fundraising courses. If your charity receives online donations and/or has a community of fundraisers taking part in fundraising events, you may wish to consider registering with Wonderful.
Wonderful is one of the UK's only FREE online charity donation and fundraising platforms.
---