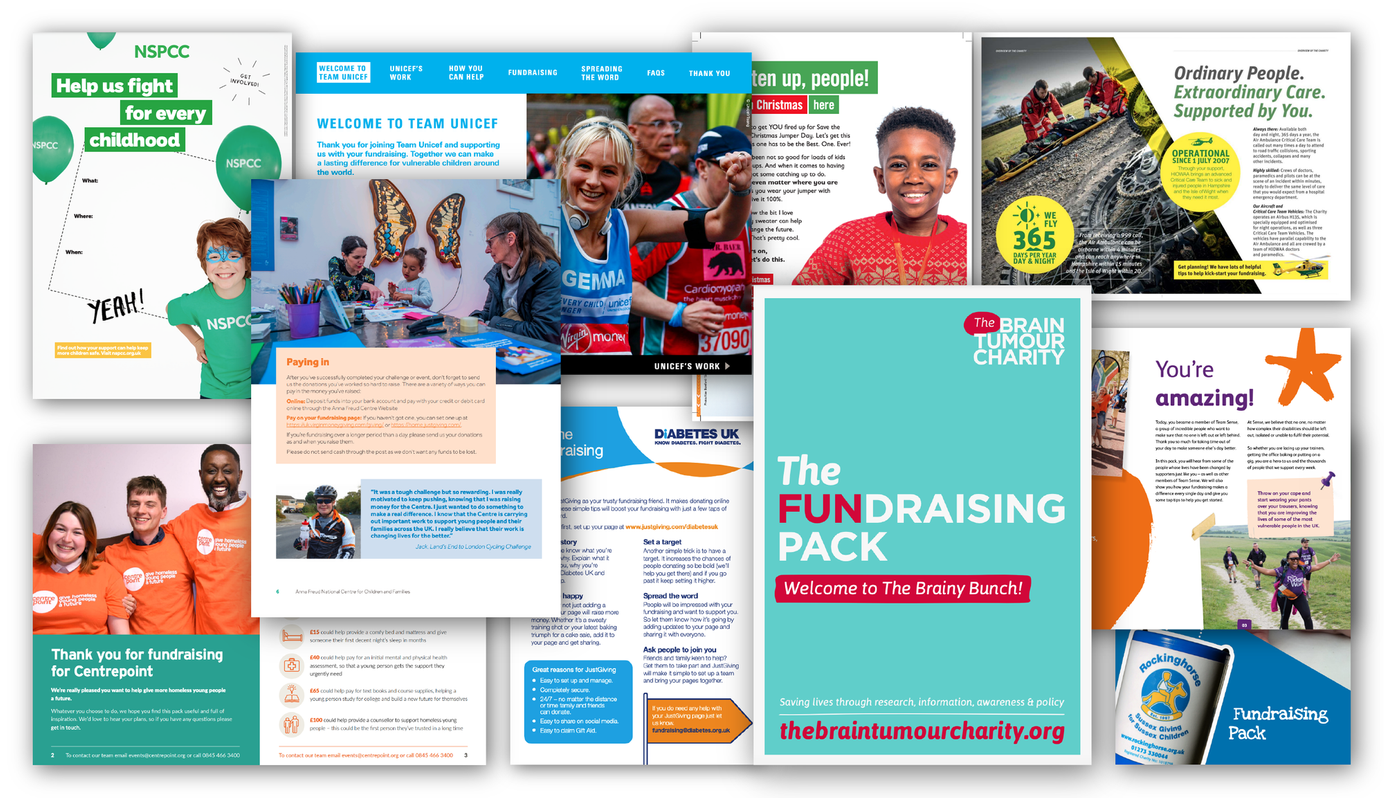 How to create the ultimate charity fundraising pack
With a little thought and planning, it's easy to put together a helpful and engaging fundraising kit for your charity fundraisers. We cover the best practices with examples in this guide.
Wondering what to include in your charity fundraising pack? Looking for fundraising pack ideas? We've got you covered. Below we take you through the key things you need to consider. This will help you cover all the bases, so that your fundraisers feel fully equipped and supported as they work hard to support your cause.
Preparation and considerations
Talk to your existing / previous fundraisers
When planning your fundraising pack it's tempting to simply look at what other charities are doing and recreate something similar. Indeed, there is much to be gained by looking at what other charities are doing, but the first step should always be to look back at your own fundraisers' previous activities. Make contact with individuals, start to understand whether they felt supported by your charity, what went well for them and what they found challenging.
Do you need multiple packs?
Today, charity fundraising is hugely varied, from individual sports challenges to large corporate events or primary school campaigns. Consider tailoring two or three specific fundraising kits to different types of fundraiser. Or, if you're creating a single pack, keep these different types of fundraiser front of mind throughout.
Accessing your fundraising pack
Some charities choose to require fundraisers to provide personal details such as a name and email address in order to download their fundraising packs. This is also important for sending out physical fundraising goods like t-shirts or collection tins. This carries the benefit of growing a database of fundraisers and being able to connect with fundraisers again in the future. Of course, with the appropriate data protection practices and consent. At the same time, you may wish to make part or all of your fundraising pack publicly accessible, depending on what you're providing.
What to include in your fundraising pack
We think there are four main categories of information you need to provide to fundraisers to set them up for success. We think your pack should contain elements from each of the four sections below.
1. A warm welcome, a thank you, some context and some solid inspiration
Make them feel part of the team. Include a very warm welcome message (a personal letter from a trustee or another colleague can help you connect with your fundraiser - see Diabetes UK's pack). And of course, make sure your fundraiser knows just how grateful you are for their efforts.
Remind them why it matters. After all, the reason your charity does what it does, is because it truly matters. Explain why the funds raised are to critical for your cause and what you'll do with them to make a difference. Feature real stories, quotes and case studies that bring your fundraiser closer to your charity. Sense does this very well in their fundraising pack.
Talk about the people and things your charity directly impacts, including what different donations amounts will pay for (examples below).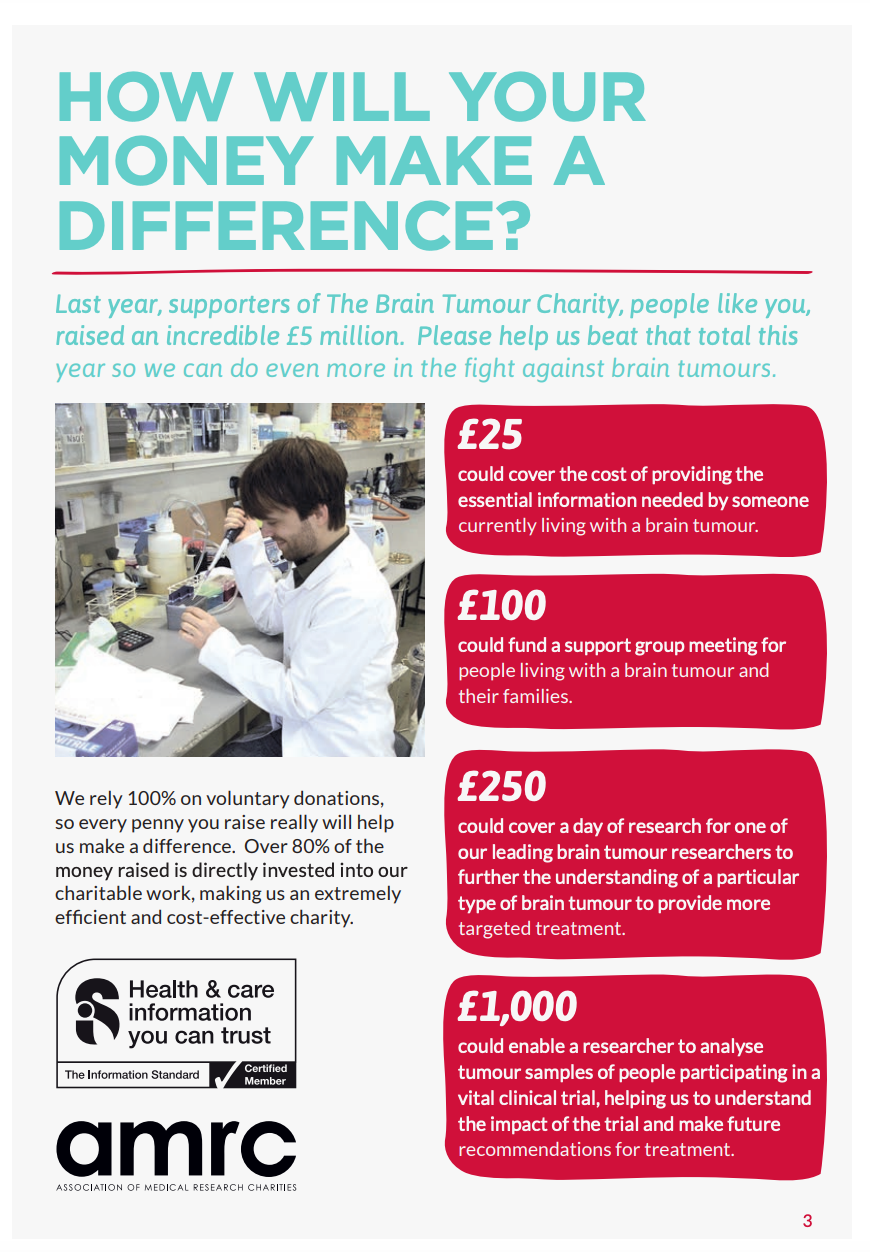 Make sure they don't feel alone. Fundraising can feel a little daunting, especially for first-timers. Provide ways to contact your charity for support, by phone, email, social media. Showcase previous fundraisers' campaigns to inspire and motivate. Share the successes of previous events and challenges to build confidence. Consider creating a 'fundraisers' Facebook group, or another way for fundraisers to connect with and support each other.
Tip: go back through your fundraisers' most frequently asked questions and provide brief answers to each in your fundraising pack.
2. Some tried and tested fundraising ideas
As above, look inwards first. How have your previous fundraisers chosen to fundraise? It's all very well suggesting a marathon run, but what percentage of your supporters are mad enough? Make sure you provide variety, and consider breaking up your fundraising ideas into different categories, e.g. individuals, teams, work-based, school events, religious etc.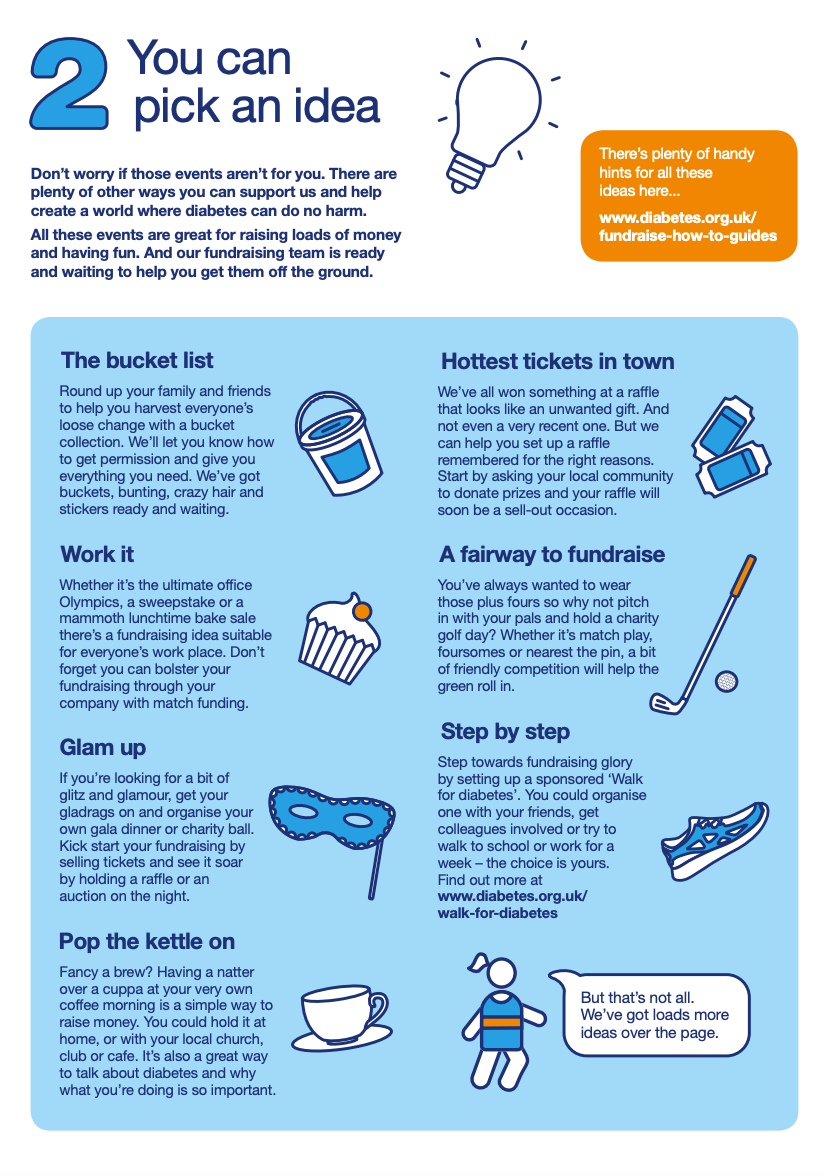 In their fundraising pack, NHS Charities Together provide a good balance between wacky / creative fundraising ideas and tried and tested ideas that have been popular in the past.
3. Practical guidance and 'how to's
This means providing clear instructions on how to fundraise safely and successfully. Much of this will likely include links to assets (see 'Assets' below).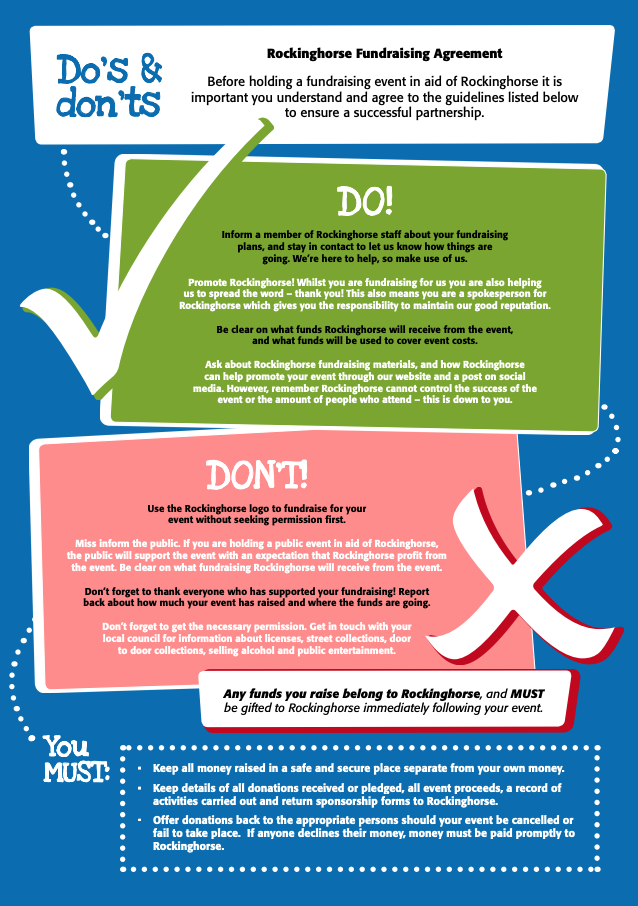 Explain how exactly a fundraising campaign should be set up. How to organise an event, a raffle, how to sell tickets. How to take donations, in cash (e.g. via collection boxes / buckets and via sponsorship forms), or online. Provide links and guidance for setting up an online fundraising page - preferably one like Wonderful.org, which won't charge any platform or processing fees and won't ask for 'tips' from donors!  ;-)
Tip: Encourage the setting of a fundraising target, as this has been shown to increase to total amount that is raised.
Provide excellent guidance on promoting a fundraising campaign. Ask fundraisers to tag your charity in social posts so you can help promote their event. Provide advice and templates (see 'Assets') for contacting local newspapers, radio stations etc.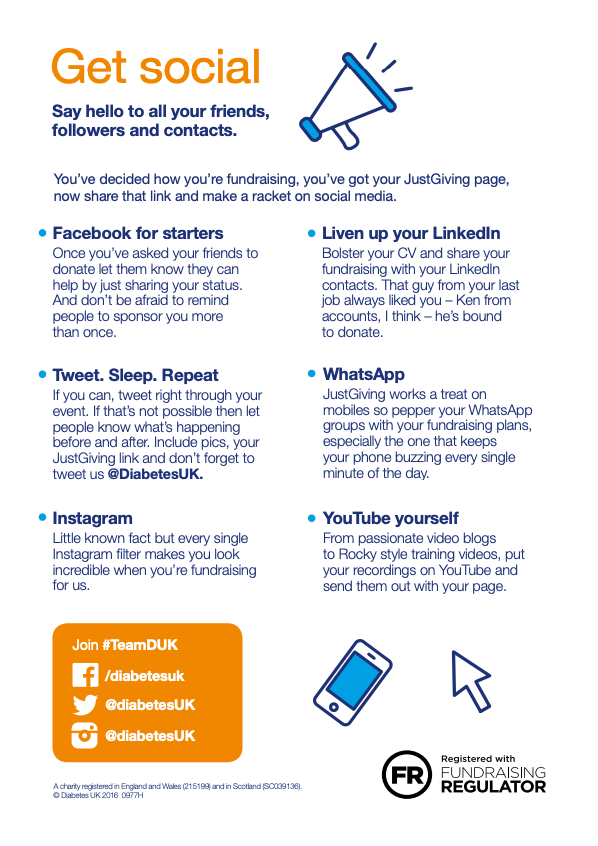 Ensure fundraisers know exactly how to pay you any funds raised in cash. Most charities advise that fundraisers pay cash into their own bank, and then send a cheque and paying in form directly to the charity.
There may also be some legal elements to include:
Clear information about Gift Aid, how it works and when it can/can't be claimed
Relevant fundraising policies/terms and conditions, or links to the Fundraising Code of Practice
Insurance info (if appropriate), links to health and safety information, Coronavirus restrictions/guidance for gatherings and events.
4. Assets
Assets are physical or digital items you can provide to your fundraisers to help them fundraise. These could be printable sponsorship forms, branded images for posting online, or poster templates for promoting events.
Below we've listed all the different assets we've seen charities providing to their fundraisers. Think about the most helpful and useable assets that can help your fundraisers specifically, and how you will produce them either internally or by using a branding/design service.
Imagery (social media images, background images, video call backgrounds, with quotes, your charity slogans)
Promotional (printable) leaflets
Poster templates (fundraising target poster, fundraising story poster, Posters with donation amounts could pay for, quick facts/stats about your charity, heart warming and powerful stories and case studies, posters for specific event types)
Carefully crafted text that fundraisers can use (about your charity)
Your charity logo (for dark and light backgrounds) including 'In aid of' versions if appropriate
Collection boxes/buckets (physical or in printable and foldable template form)
A fundraising press release template (for approaching local news outlets, radio etc.)
Branded thank you templates/letters/emails which fundraisers can send out to their donors
T-shirts, or links to services that fundraisers may wish to use to produce their own
Wearable items for events (headbands, masks, wigs, glasses etc.)
Decorative items (balloons, banners, bunting, stickers etc.)
Ticket templates for ticketed events
Paying in forms (to accompany cheques from cash donations)
Examples of fantastic fundraising packs from popular charities
Looking at the various fundraising packs provided by charities, you'll see common themes as well as lots of content. Use the examples below to help you build and refine your fundraising kit, but remember to ensure you know and understand the demographics of your supporters and tailor your fundraising resources accordingly.
Hampshire and Isle of Wight Air Ambulance
Save the Children (Christmas jumper day)
---