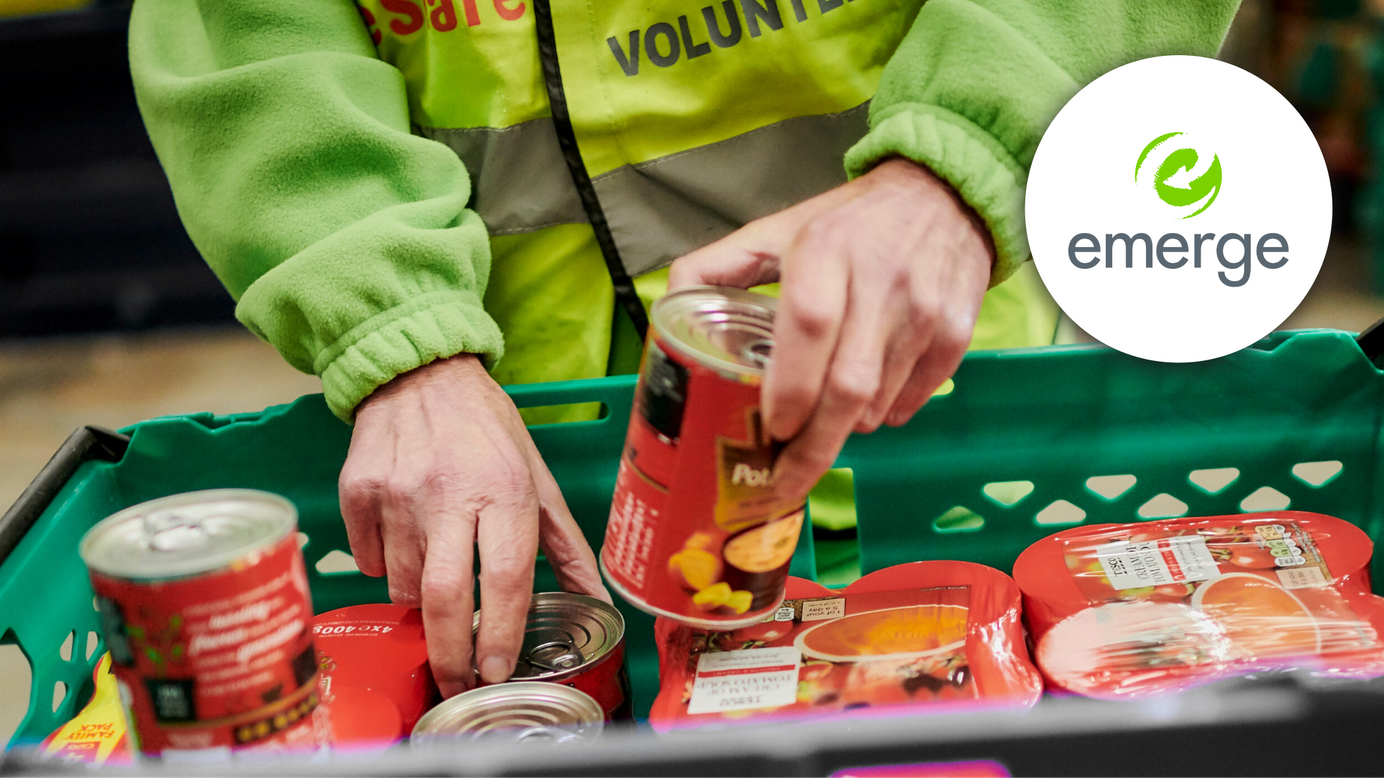 Emerge 3RS: Turning waste into something wonderful
Emerge's vision is a world where reducing, reusing and recycling are second nature. A world where resources are cherished and people never go hungry.
From business waste reduction, to community engagement and food poverty support, Emerge 3Rs runs multiple projects in Greater Manchester to drive positive changes in resource management. The ultimate goal is to contribute to a more economically sustainable and just society.
Emerge operates with a 'person-centered ethos'. The Emerge Recycling centre provides sustainable jobs and learning experiences for schools. Its 'Touch Wood' project rescues waste wood and upcycles it into beautiful timber products. The group also carries out the Greater Manchester operations of the wonderful surplus food distribution charity, FareShare.
FareShare: Addressing food waste & supporting the most vulnerable
The UK food industry wasted hundreds of thousands of tonnes of food every year. At the same time 5 million adults and 2 million children in the UK struggle to get enough to eat.
Emerge 3Rs runs FareShare Greater Manchester, which is a leading member of the UK's longest running food redistribution charity, FareShare. This project obtains otherwise-wasted items from the food industry and distributes them to frontline charities, schools and community services for people who need them most.
FareShare champion, Marcus Rashford
In 2020, during the Covid-19 pandemic, FareShare Greater Manchester provided 5.5 million meal portions to tens of thousands of people across the city. This wouldn't have been possible without the inspiring work of Manchester footballer, Marcus Rashford and his mum, Melanie.
At this time of unprecedented demand, Marcus and his mum visited the new Fareshare GM depot - now named Melanie Maynard House in recognition of parents like her who still work tirelessly to provide for their children in very difficult circumstances.
Marcus's family was once in the same position as many of the people supported by FareShare today. You can follow the story covered in the BBC documentary, Marcus Rashford: Feeding Britain's Children.
Unfortunately, even before the pandemic affected us all, food poverty in the UK was on the rise. This makes the work of Emerge 3RS and FareShare GM even more important.
You can find out more at the Emerge website, or make a donation directly to support the work of Emerge now:
Fareshare GM has its own website, where you can discover the incredible work they do at their new food depot, or even get involved by volunteering your time to help.
---