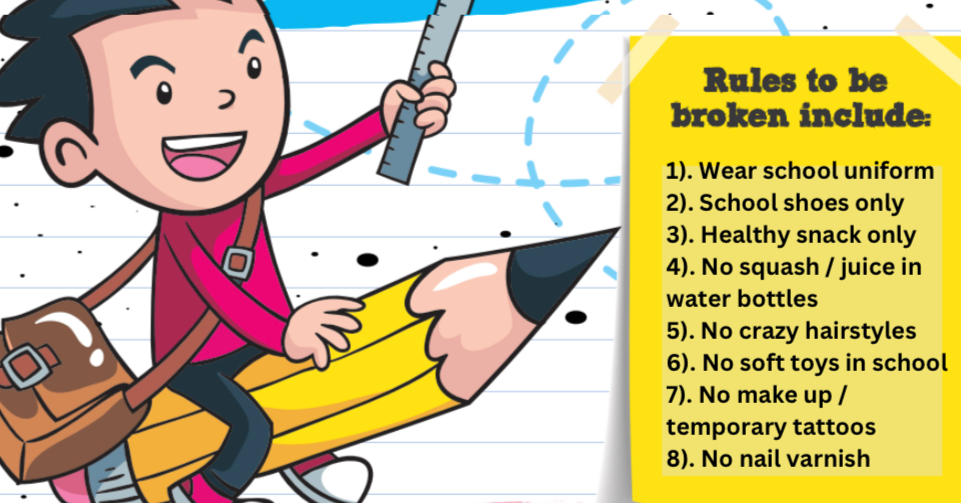 PTA Declares 'Break the Rules Day' at School
The PTA of Worplesdon Primary School will be allowing the children to break the rules for one day only!
On Friday 14th July, children at the school were allowed to break 8 rules. For example, children did not need to wear uniform, children were allowed to wear their hair down, and even wear temporary tatoos!
Children WERE required to stick to other school rules such as no mobile phones, following our TEAM rules (Talk and act positively, Embrace and follow instructions, Act kindly keeping hands and feet to yourself, Make yourself the best you can be).
All of the funds raised by the children as part of this rule-dodging celerbation will go directly to the Friends of Worplesdon School. If you'd like to support the school with a donation, head to their fundraising page:
The Friends of Worplesdon Primary School believe that children get just one childhood: it should be a magical and happy time where education should leave a host of positive and deeply meaningful memories that last for the rest of their lives. They work hard by organising and running school fairs and other fundraising activities for the school.
If you'd like to make a donation to support their work, head to their Wonderful profile page. You can also fundraise for The Friends of Worplesdon Primary School using Wonderful, safe in the knowledge that every penny you raise will reach the charity with no deductions or fees whatsoever:
---