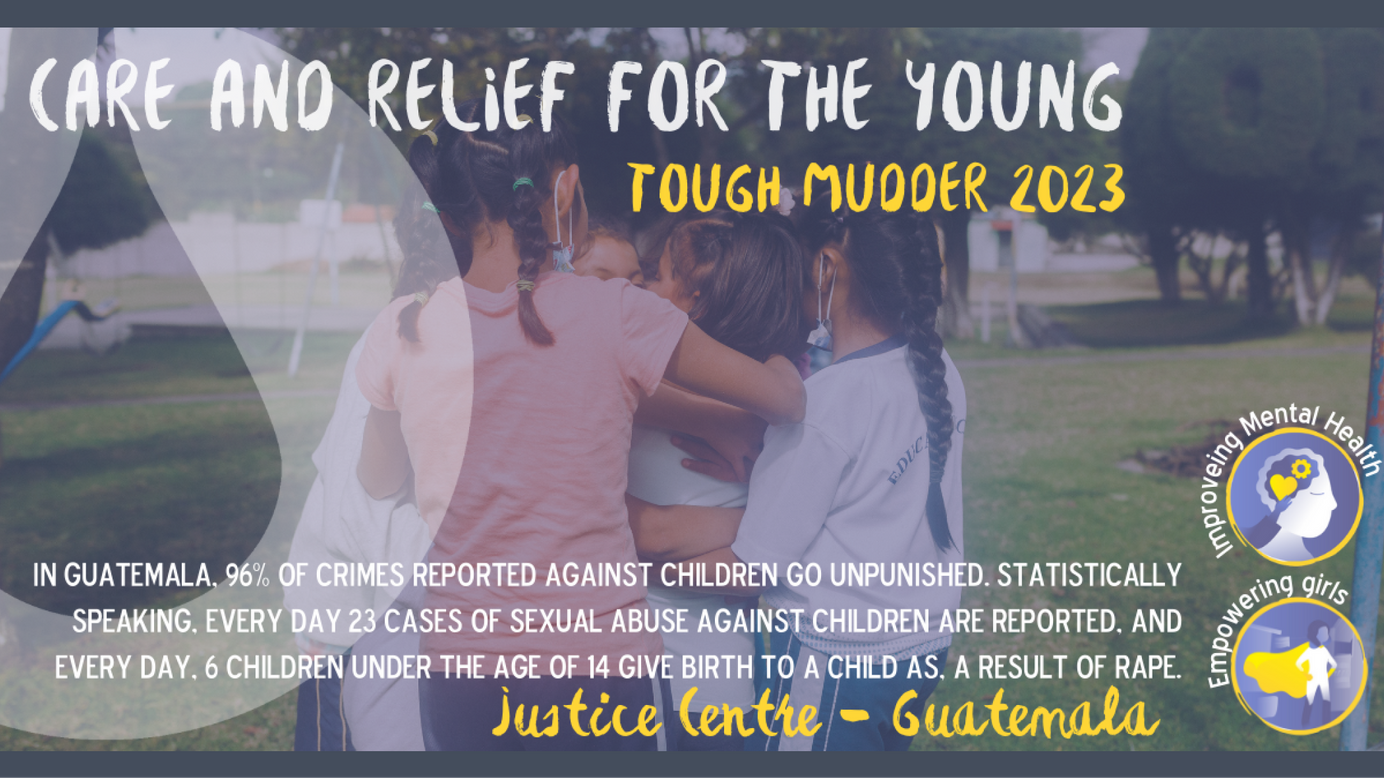 Wendy's Tough Mudder for children in Guatemala
Wendy and her team are undertaking a unique challenge in aid of Oasis children's home in San Lucas, Guatemala, where many highly vulnerable children are cared for.
Wendy, alongside her fantastic team at Care and Relief for the Young (CRY), will be completing a truly testing challenge when they take on the Tough Mudder. This will involve completing 10km in distance, in addition to a wide array of muddy obstacle courses. Knowing how much of a feat this will be to conquer, Wendy is driven by her determination and desire to support a cause that means a lot to her.
Having worked with the charity for nearly 20 years, Wendy values the work that CRY does in aid of children around the world. This fundraising campaign will support the Oasis children's home, where girls who are victims of sexual violence are given the care they need. The home serves to heal children and help them integrate into a safe family.
"In Guatemala, 96% of crimes reported against children go unpunished. Statistically speaking, every day 23 cases of sexual abuse against children are reported, and every day, 6 children under the age of 14 give birth to a child as, a result of rape." - Wendy

About CRY
Care and Relief for the Young (CRY) is a Christian children's charity with a strong belief that all children can fulfil their potential, whatever they've been through. CRY operates in various countries around the world, with the aim being to care for vulnerable and neglected children so that they can live with safety and happiness in the long term.
5 Goals underpin the work that CRY does:
Enable - Greater access to education can play a huge part in getting out of poverty. Improvements to school facilities and investing in life skills training helps long-term employment prospects.
Empower -  Tackling gender inequality and empowering women to achieve what they deserve.
Support refugees - Child refugees often do not have access to the same support and opportunities that children otherwise would. CRY projects serve to fill these gaps.
Provide aid - CRY provides food, clothing and other essentials to some of the most troubled areas of the world.
Improve mental health - Nurturing children that have experienced trauma by providing access to trauma support and helping them heal.
Wendy and her team are doing everything they can to help support the Oasis children's home. As you can see above, the amazing work that CRY does makes this fundraiser invaluable for helping support children in need.
You can support Wendy's fundraiser here:
---